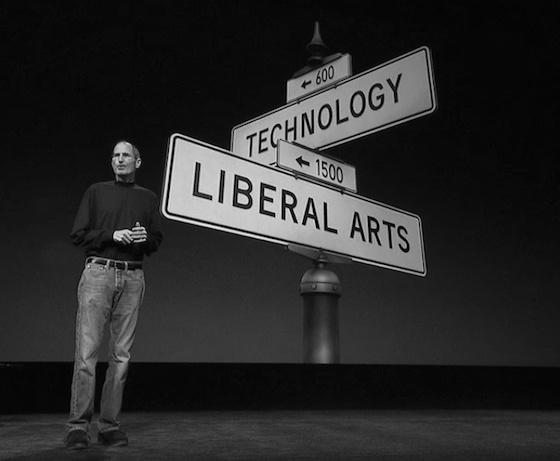 Tom Perrault in a provocatively titled Harvard Business Review piece, "Digital Companies Need More Liberal Arts Majors" argues:
"In today's digitally driven world, companies are competing ferociously for technological skills. The current emphasis on these skills seems totally rational, as nothing happens without them and no company can ever hope to be successful in their absence. But what companies forget is that this won't be true forever. What can't be replaced in any organization imaginable in the future is precisely what seems overlooked today: liberal arts skills, such as creativity, empathy, listening, and vision."
For sure, those traits are essential for success as a PM. See my last newsletter for more about empathy in particular. But the claim that you can only find them in liberal arts grads and they're somehow at odds with a technical education? Baloney.
My undergraduate degree is in philosophy and political science but I have a technical graduate degree and was an engineer early in my career, so I have a perspective that's much more nuanced. "Technical skills vs. liberal arts skills" sets up a false dichotomy. It's certainly plausible that people naturally strong in creativity, empathy, listening, or vision might be more drawn to the liberal arts than the sciences. We'll have to leave that question open because Perrault didn't include any empirical data in his article [insert liberal arts joke here]. Skills matter, not degrees.
The article does raise that timeless question: should PMs be required to have a technical degree? No, but it often helps. PMs need to be technical enough for the job. The definition of enough varies by industry, company, and product. The technical foundation required to PM your company's machine learning efforts would be quite different from what you'll be expected to know to PM a user on-boarding flow. (The UX and design skill expectations would also differ.) Technical enough means the PM can earn the respect of the engineers. Engineers won't have to "dumb down" the conversation, or fret that critical details might be lost in translation. Most importantly, they trust that their PM won't make promises without knowing what's easy and what's hard.
The quickest shortcut for measuring "technical enoughness," especially for new grads and those early in their careers, is requiring PMs to have a CS or engineering degree. Companies who do this would rather lose out on hiring a solid PM who is technical but doesn't have a CS degree than risk hiring one who isn't technical enough. It prefers false negatives to false positives. It's also, frankly, a little bit lazy – you're outsourcing your candidate pre-screening to a college.
That rigidity is changing, and for the better. Even Google's PM job listings now say: "BA/BS in Computer Science or a related technical field or equivalent practical experience." Facebook's listing simply states, "BA/BS in Computer Science or related technical field is ideal." I suggest carefully defining what technical enough means at your company, then deciding how that can be evaluated during the interview process. Which questions will you ask? Who will ask them? If you've ever worked with a PM who wasn't technical enough, what were the clues?
Technical skills aren't the only qualification you need to be a successful PM and a CS degree isn't the only way to get them. You need to be able to think analytically, be creative, have good product instincts, communicate well, and lead without authority. PMs must be T-shaped. Which brings us back to that HBR article. Product management absolutely draws on all of Perrault's so-called "liberal arts skills" – creativity, empathy, listening, and vision. But it's not either/or – we need liberal arts and technology.
---
My liberal arts education exercised my writing and persuasion skills and helped me learn to see problems from lots of different angles. It also helps me make the occasional Descartes joke. I'm happy to see many STEM programs bringing in more of the liberal arts, and vice versa.
In case you missed it, this Forbes article from July is also a good read: "That 'Useless' Liberal Arts Degree Has Become Tech's Hottest Ticket."
For further reading on the topic of technical enoughness, I recommend Bo Ren's From Liberal Arts to Product Management, Ellen Chisa's Evolution of the Product Manager and Hunter Walk's Ode to a Non-Technical Product Manager. (Hunter and I are both former Google PMs without CS undergrad degrees. So yeah… we exist.)
What do you think?
---
It is in Apple's DNA that technology alone is not enough—it's technology married with liberal arts, married with the humanities, that yields us the results that make our heart sing. – Steve Jobs
---
Good Reads
1,000,000,000 active users. Two consumer software products just crossed the one billion active user mark: Gmail and WhatsApp (see here and here). They join an exclusive club that by my tally includes Facebook, Google Search, Apple devices*, Microsoft Windows, Microsoft Office, Chrome, Google Play, YouTube, Android, and Google Maps. Am I missing any?
Who will be next? Facebook Messenger, Tencent's QQ, WeChat, and Instagram are following closely behind and all growing fast. With more than 3 billion online users around the world, there's plenty of room to grow.
* To reach this number, Apple combines active iPhones, iPads, Apple TVs, Watches, and Macs. If you feel like Apple is cheating a little bit, remember that Android combines even more device models. iOS alone should get to a billion within the next 1-2 years.
Get married to the problem, not your solution. Dan Greenberg writes that you should hire "problem finders" at your startup, not problem solvers. Commitment to a problem means your team will connect with customers, listen more, and remain open to changing your solution to fit the problem.
Three things learned from 4+ years at Uber. Michael Pao recently left Uber to become an EIR at Greylock. He shares what he learned, especially when it comes to marketplace businesses. "Once your marketplace starts to click, don't be seduced by the dark side by skewing heavily towards demand… supply is the engine that fuels a great marketplace." (Disclosure: I'm an investor in Uber through GV.)
Transitioning from engineering to product management is challenging, and Sachin Rekhi has some advice: "Ultimately it becomes your responsibility to not only think about the work (ie. the results your teams are achieving), but also the 'work of work', which is the processes by which work gets done on your team."
CBS MoneyWatch declares product manager the 8th most important job in America. Data scientist, tax manager, and "solutions architect" (whatever that is) filled out the top three. Product manager beat out software engineer by one spot - they came in at #9. As you negotiate compensation with your CEO, remember the old saying: "as goes CBS MoneyWatch, so goes the world."
---
Where I'll Be Speaking
Wednesday, May 4, 2016 Mind The Product, San Francisco _MTP is one of the best organized and most informative product-oriented conferences I've ever been to. It's a must-attend for product leaders. We still have a few $100 discount codes left, use this link (you're welcome to share with a friend, but please don't post publicly): [FOR SUBSCRIBERS ONLY]
Thursday, September 15, 2016 Industry: The Product Conference, Cleveland Registration is open with an early bird discount through April 30th. Last year's sold out inaugural event featured Nir Eyal, Trevor Owens, and Mina Radhakrishnan and others. Plus, Cleveland is awesome.
Can you recommend good conferences for product people? Reply to this email and let me know.