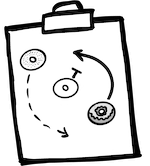 Product Management Coaching with Ken Norton
Bring the Donuts
I've coached and mentored product managers and product leaders of all experience levels for more than fifteen years, from recent grad APMs to newly promoted product directors to experienced VPs of Product and Chief Product Officers. Below are just a few areas I focus on:
Developing as a product leader
Finding your purpose as a product manager
Building a healthy and robust product culture
Career planning and development
Team and organizational structure
Hiring product managers
Working and communicating with other groups and different personalities
Building outstanding relationships with engineering and design
Improving product strategy and process
Setting goals and objectives
Long term product planning and vision
Working effectively with CEOs, other execs, and board members
Developing self-awareness and processing feedback
Work/life integration
Values
I've worked with PMs from many industries, including consumer software, e-commerce, enterprise, hardware, life sciences/healthcare, frontier tech, and Fortune 500 companies of all shapes and sizes.
Individual Coaching
Best suited to experienced mid-level product managers up to VPs of Product/CPOs and CEOs
Includes two 55-minute sessions every month plus unlimited email communication. We'll find the most success when we can develop a multi-faceted, long-term relationship. For that reason, my typical personal coaching engagement requires an initial commitment of six months. That will give us the time and space to work together on the challenges you face, get to know one another, and develop a healthy relationship based on openness and trust. If you choose to continue after this initial period, I bill monthly.
Group Coaching
Ideal for product managers of all experience levels
Besides individual coaching, I also offer group coaching to entire product management teams. I meet twice a month for 55-minutes with a group of up to 12 people. I work closely with the leader to customize to the needs of the group. The leader has flexibility around topics and attendees. For example, perhaps some sessions are only with the more junior PMs and others are with only the managers. My rate includes unlimited email coordination with the leader between sessions.
Company In-House Coach
I can accommodate a limited number of company relationships where I'm available to work one-on-one with several product managers. This is similar to my individual coaching service but discounted over the individual rate and with more discretion for how the time is allocated amongst the team.
If you're interested in learning more about my product coaching services, please email [email protected]bringthedonuts.com for current pricing and more information. Tell me a little about yourself, your company, and what you hope to get out of coaching. I offer a free consultation to make sure that there's a fit.
I especially welcome the opportunity to coach PMs from traditionally underrepresented backgrounds.
I've worked with product managers, product leaders, executives, and teams from the following companies: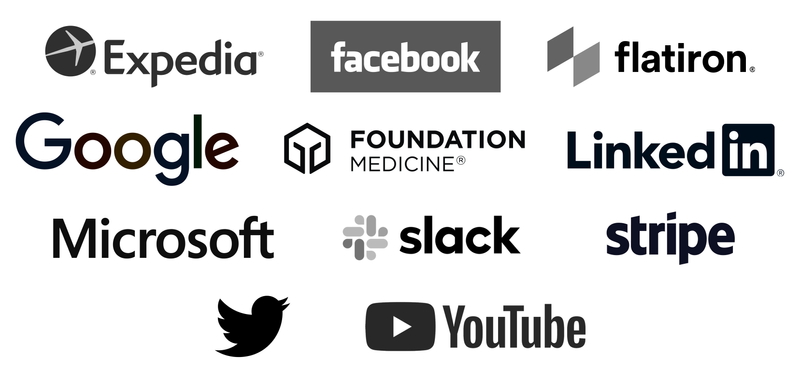 What is Coaching?
Unlike advisors or consultants, coaches help you get to the root of the challenges you're facing. They don't tell you what they would do, they collaborate to figure out what you should do. Coaches believe that their clients are naturally resourceful, creative and whole. Coaching is about asking the right questions and using creative techniques to evoke in their clients the realization of their full potential. A coach is someone in your corner you can test out ideas with, speak with candidly about your fears, and who will push you and hold you accountable.
I've benefited throughout my career from the coaching of others. Sometimes it was helpful to just bounce a problem off someone who'd been there, or even just someone who didn't work at the same company. They helped me resolve conflict, create great cultures, make tough decisions, chart the direction of my career, and deliver world-class products. I'm passionate about the craft of product management and am dedicated to providing that same help to others. I hope we get the opportunity to work together.
Typical Engagements
A fast-growing startup's lead product manager, told that the Chief Product Officer role is "theirs to lose"
A big tech company group product manager, recently promoted and growing from individual contributor to product leader
A VP of Product at a big tech company, looking to reach their goal of becoming a CEO in 3-5 years
An experienced PM who feels like their career has plateaued, looking to shake up their career, achieve work/life balance, and fall in love with the job again
A product manager who just took on a large project, struggling to become more confident and decisive
A Chief Product Officer at a high-growth startup who wants to become a better manager of managers, and challenged with how to structure an organization
An experienced product leader who was hired to change the product culture at a Fortune 500 company
A startup product CEO looking for someone to coach their entire team of product managers in a group setting
An L6/L7 product manager at a FAANG, looking to become more strategic and accomplish their goal of being promoted to director
A newly promoted product leader, challenged in a recent performance review to be less tactical and deliver a compelling vision for their product area

About Ken Norton
Ken Norton spent more than fourteen years at Google, where he led product initiatives for Google Docs, Google Calendar, Google Mobile Maps, and GV (formerly Google Ventures). He joined Google with the acquisition of JotSpot, where he was vice president of products. Before JotSpot, Ken led product management at Yahoo. Back in the day when he was a software engineer, he was one of the first 50 employees of CNET and the founding CTO of Snap (which became NBC Internet).
Ken has written extensively about the craft of product management. His classic essay How To Hire a Product Manager became the playbook for a generation of product managers. He's also the reason donuts and product management have become synonymous.
Ken has a bachelor's from Boston University and a master's from Rensselaer Polytechnic Institute, and he serves on BU's College of Arts & Sciences Dean's Advisory Board. His favorite donut is the old-fashioned.
"In the course of a decade, Ken Norton fundamentally changed the way you communicate, schedule and get around."
— Inc. Magazine
"One of the most creative and encouraging thought leaders in the field."
— Roadmunk
"One of those rare product managers who combines both product vision and a strong technical background."
— Jeff Weiner
Executive Chairman and Former CEO, LinkedIn